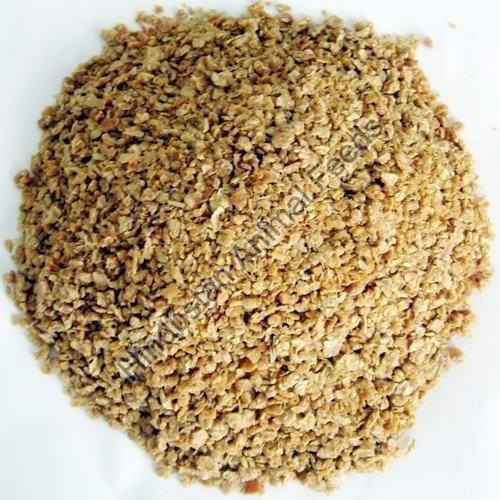 The broiler starter feed is widely demanded broiler birds. Broiler Chicken Feed Exporters blend multifarious grains like corn gluten meal, wheat gluten meal, soy meal, DDGS, pluses, essential amino acids, vitamins, minerals, trace minerals, toxin binders, and mold inhibitors for the production of this 100% vegetarian feed.
The broiler starter feed is examined according to IS:2052 Proximate Analysis on a dry matter basis. The fumigation for the feed is done by strictly following the industry norms with the help of Aluminum Phosphide or Methyl Bromide.
Types of Poultry Feed:
One of the most essential aspects of poultry science is chicken feeding. There are three types of poultry feeds.
1. Starting poultry feed: an all-mash feeding for chicks up to 8 weeks of age.
2. Developing poultry feed: a diet that should be offered to growing hens between the ages of 8 and 20 weeks, or until laying begins.
3. Laying chicken feed: a diet that should be offered to laying birds once they reach 20 weeks of age or when laying begins.
Components of the Broiler chicken feed:
There are several vital components that broiler chicken feed exporters in India check for before tey dispatch their quality products.
• Proteins: They comprise of the major portion in the broiler chicken feed. The carcass of an 8-week-old broiler has more than 65 percent protein by dry weight, and the egg content is roughly 50 percent protein. Protein content in broiler diets ranges from 22 to 24 percent, whereas protein content in layers rations ranges from 16 to 17 percent.
• Carbohydrates: Carbohydrates in the diet serve primarily to supply energy to the animal. Starch, cellulose, pentosans, and various other complex carbohydrates are important polysaccharides. Although both cellulose and starch are made up of glucose units, chickens only have enzymes that can hydrolyze starch. As a result, cellulose is indigestible. Cereal grains and by-products are a good source of starch, thus they make up a large part of the poultry menu.
• Fats: Fats account for approximately 40% of the dry weight of an egg and roughly 17% of the dry weight of a broiler. Although fats provide a concentrated type of energy, their usage as genuine fats or oils in the diet is uncommon due to high costs and the risk of rancidity, which occurs after prolonged exposure to air, heat, sunshine, and other factors.
Broiler Chicken Feed Exporters:
This is a flourishing business due to the increasing demand for meat in the Indian market. To fill this space various companies are producing feed both for the Indian market and exporting them as per demand. Here we have mentioned some of the important broiler chicken feed exporters in Gujarat and across India. Some of the most prominent companies operating in this space are Hindustan Animal Feeds, Sushil Feeds, Vijaya Poultry Feed, and Modern Animal Feeds Pvt. Ltd.
Conclusion:
The nutrition and feeding of chickens are key aspects of their production. If you're going to mix your diet, you'll have to put in a lot of work to get a well-balanced diet, especially if it's certified organic. When chickens are on pasture, they may get part of their nutrition from insects, worms, and plants, which save money.